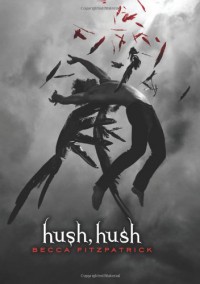 Becca Fitzpatrick's first novel of the series went above and beyond my expectations for 'Hush, Hush'. The story unfolded at a nice pace and most certainly kept you guessing through out the book as to why Patch's past was so mysterious. There was one or two spots in the book were it lagged on for a bit, but sometimes that happens when creating a story.
I really don't want to say much about what happens in the book, because it's such a great journey you take with the Nora. But I guess I can say she learns a lot about herself and about life.
The one issue I've had when it came to this book was the comparisons it had against 'Twilight'. It may have had the erie supernatural tone, but it is NOTHING like 'Twilight'. Nora is a compleet 180 from Belle Swan and Patch is very bad boy next to Edward Cullen. I haven't found one identical piece of evidence as to what made it so comparable by a lot of readers. 'Twilight' was about vampires and 'Hush, Hush' was about Angels. Not even in the same realm of fiction.
Which brings me to this: I actual now favor 'Hush, Hush' over the twilight saga. There was something very real and intriguing about 'Hush, Hush' from beginning to end. I had a hard time putting the book down for the last 5-6 chapters because of the way Fitzpatrick wrote her climax and ending.
Would I recommend this book: Yes I would! Mostly to those that didn't enjoy 'Twilight'.
Plus if it were ever made into a movie, I think the guys would enjoy that there is a lot more action in this novel than 'Twilight'. Anyway, I can't wait to start the sequel "Crescendo" and find out what happens next to our two lead characters Nora and Patch!